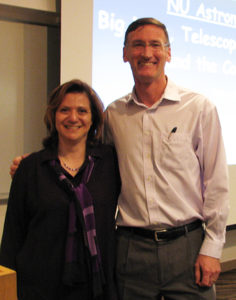 On Tuesday, August 18th CIERA Director Vicky Kalogera spoke to nearly 40 Office for Research staff members at NU Knowledge at Noon, a faculty research presentation series. The series is designed to allow staff to learn directly from Northwestern faculty about the exciting research that takes place at our institution. The series also aims to foster connections across Office for Research staff by providing the opportunity for them to meet in person.
In her talk, "NU Astronomy: Big Data, Telescope Innovation, and the Cosmos," Dr. Kalogera covered a brief history of astronomy, but she focused mainly on the very near future: the importance of big data and the value of two large, related initiatives, the Large Synoptic Survey Telescope (LSST) and the Laser Interferometer Gravitational-Wave Observatory (LIGO).
Pictured: CIERA Director Vicky Kalogera and Vice President for Research Jay Walsh.