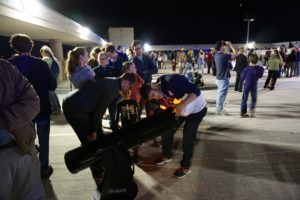 Despite intermittently cloudy skies, over 1,700 people joined CIERA faculty, staff, postdocs, and graduate students to watch the total lunar eclipse on Sunday night, September 27th, 2015.  Setting up three telescopes on the top floor of the Segal Visitors Center on the south campus of Evanston, CIERA volunteers welcomed Northwestern students & staff and members of the public to take part in this event.
Crowds cheered as the moon ducked out of the clouds just before the total eclipse, showing a reddish-orange face with only a small fraction of the surface still lit directly by the Sun; some enthusiasts stayed even until the end of the eclipse, watching the full moon re-appear.
We were happy to be able to share the total lunar eclipse with so many friends! View the Northwestern News eclipse story and the Daily Northwestern eclipse story.