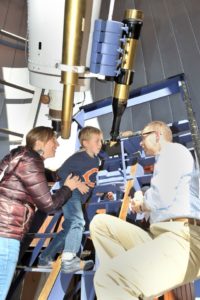 For the first time, the Chicago Architecture Foundation expanded their annual Open House Chicago event to include buildings in Evanston; three Northwestern buildings were featured in Open House Chicago 2015: Charles Deering Library, Alice Millar Chapel, and Dearborn Observatory. The Observatory was open for the event from 1pm to 5pm on Sunday, October 18th.
Visitors got a chance to walk through the building (built in 1889, and the oldest building of the three featured); many also observed the Sun through a 'spotting scope' mounted on the main telescope, as well as through a purpose-built solar telescope, also fixed to the side of the main telescope. 602 people visited Dearborn on that Sunday, creating a line that sometimes snaked its way from the second floor of Dearborn down to the first floor, and all of the way out to the front of the Observatory. We hope all of our visitors enjoyed their time at Dearborn!
Learn more about the three Northwestern buildings in the Northwestern News story.
Plan a visit to Dearborn Observatory or find out about the Chicago Architecture Foundation.