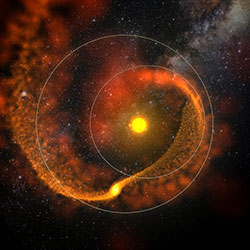 Northwestern University's Science in Society holds an annual competition to find the most beautiful science images from researchers all over campus. Entries to this fifth year of the contest came from astrophysics, neurobiology, engineering and nanotechnology, among others.
CIERA and NSF Astronomy & Astrophysics Postdoctoral Fellow Aaron Geller collaborated with Physics and Astronomy graduate student Jason Hwang and Professor Fred Rasio, to create an image of the collision of two hot Jupiter planets orbiting a Sun-like star. Their image, "When Worlds Collide," won the People's Choice Award and an Honorable Mention in this year's contest.
Visit Helix Magazine, the online publication of Science in Society, to view a gallery of the winning images from 2015 and to read about "When Worlds Collide."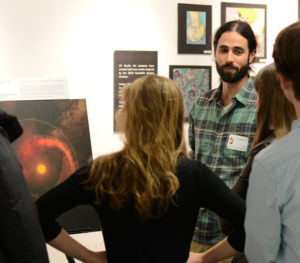 You may also enjoy viewing the artwork created by Evanston Township High School students, inspired by this year's NU image contest winners. See the artwork and other winning scientific images on tour throughout 2016, at venues including the Evanston Public Library, Chicago Public Library's Harold Washington Library Center and the Chicago Museum of Science and Industry.
Pictured, top left: "When Worlds Collide" by Aaron Geller, Jason Hwang, and Fred Rasio
Lower left: Postdoctoral Fellow Aaron Geller shares the image at a reception on November 10th.