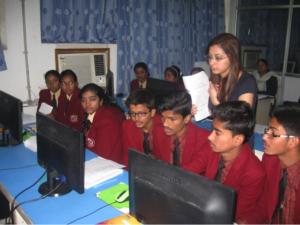 Northwestern & CIERA Graduate Student Niharika Sravan returned to her hometown in eastern India last week to teach a one-week winter school that introduced high-school students to Computational Astrophysics.
Forty students and six teachers at the Hill Top School in Jamshedpur, India, gained firsthand experience in working with state-of-the-art computational research tools for numerical modeling, data visualization, analysis and scripting.
The course was developed with Senior HPC Specialist Pascal Paschos from Northwestern's Research Computing Services part of NIT. Paschos helped the students connect to Northwestern's Quest system, a high performing computational system that allowed them to develop experience with using state-of-the-art tools.
In the 5-day course, students learned the basics of astrophysics theory and modeling with Python, culminating in a project where students were able to use their new skills and equipment to answer a question they had about the sun.
Sravan had always been interested in outreach and communicating with people about science, but it wasn't until she became involved in the "Reach For the Stars" program six months ago that she began to do so in a classroom setting. "Reach For the Stars" is a CIERA and Northwestern GK-12 program, supported by the NSF, that pairs graduate students fellows with K-12 classrooms to help them learn how to communicate their research.
Sravan said that Reach for the Stars gave her the time and resources to create the program for the Hill Top School, as well as the background with which to compare her experiences.
"I haven't been in the Indian education system for a while now, so I could contrast the experience with Indian and American high schools," she said. "It was a very good learning experience for me. I could view it objectively, and I had a good experience learning the benefits of being in the American education experience."
Sravan and Paschos conducted a question and answer session via Skype during the students' graduation. They included both science and technology topics. This Q&A served not only as an example of the indispensable coupling of these areas, but also underlined the fact that technology itself enabled this communication across thousands of miles, fostering scientific curiosity in young minds at a global scale.
According to the students in the course, the experience was out of this world.
"I firmly believe that this course is very important for students all over India," said one student in the exit surveys. "This kind of course truly exposes us to the whole new world of computers, supercomputers, and stars. The way in which we were taught was brilliant and easily understood the aspects of the course. It was truly an exhilarating experience and we want more of such courses."