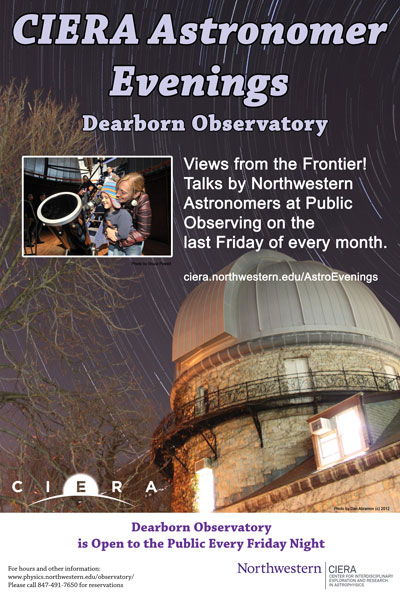 Thank you for making 2015's Einstein Evenings such a great success!
We are happy to announce a continuation of public evening astronomy talks at Dearborn Observatory: CIERA Astronomer Evenings. On the last Friday of the month throughout 2016, we will discuss the concept of light as a cosmic messenger, and introduce the history and technology of optical telescopes.
At these events, you will have the opportunity to meet and interact with CIERA postdoctoral associates, graduate researchers, and undergraduate students. They will discuss their research, share some exciting visualizations and hands-on activities, and answer your questions!
These special evenings will take place at the Dearborn Observatory on Northwestern's Evanston campus from 8:00pm – 10:00pm. We look forward to seeing you there.
CIERA Astronomer Evenings web site