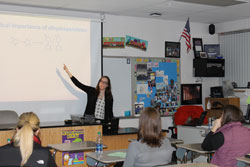 Our largest ever "Graduate Student Speaker Series" event was held at Vernon Hills High School on February 9th. Over 70 students, teachers, and school administrators attended the event to learn more about the latest in science research and to discuss bringing hands-on inquiry lessons connected to the research into high school curricula.
Graduate student presenters were: Fernando Castro (Materials Science and Engineering), Alicia McGeachy (Chemistry), Jessica Stark (Chemical and Biological Engineering), Nancy Auyeung (Interdisciplinary Biological Sciences), Victoria Weidner (Chemistry), and CIERA's own Zachary Hafen (Physics and Astronomy).
Learn more about the Graduate Student Speaker Series program at the GS3 web site.