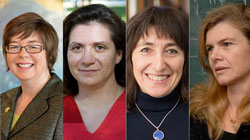 CIERA director Vicky Kalogera joined Wendy Freedman and Angela Olinto, astrophysicists from the University of Chicago, in a "Panel on Space" moderated by Adler Planetarium's CEO Michelle Larson on February 22.
The scientists spoke to an audience of 150 Girl Scouts, other middle- and high school-age girls, and members of The Chicago Network, an organization of Chicago's most distinguished professional women.
VIDEOS
Please see the Chicago Tribune's story about The Chicago Network's Panel on Space.
Learn more about The Chicago Network.