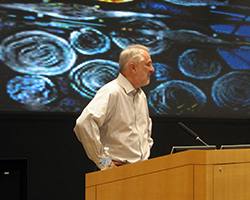 Roger F. Malina shared the story of his career, including the strong influence of his father, who became a full-time artist following a successful scientific career, at CIERA's Spring Interdisciplinary Colloquium on April 7th. Dr. Malina is a Distinguished Professor of Arts and Technology, and Professor of Physics, from the University of Texas at Dallas.
Dr. Malina is the founder of ArtSciLab, a transdisciplinary research lab at UT Dallas. He shared a wide array of examples of collaborations between physicists and engineers, art historians and musicians, designers and doctors. He talked about the many challenges to these collaborations, but emphasized the innovations that they can produce.
As Executive Editor of Leonardo, the leading international peer-reviewed journal on the use of contemporary science and technology in the arts and music, Dr. Malina also discussed his publishing initiatives and his work to create permanent records of research being done today.
Learn more about the ArtSciLab at UT Dallas and the Leonardo Journal from the MIT Press.