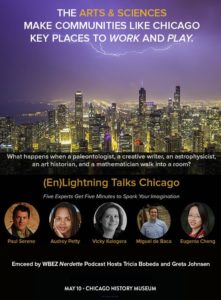 Emceed by WBEZ's Nerdette Podcast hosts Tricia Bobeda and Greta Johnson, five of Chicago's Arts and Sciences experts got just five minutes to spark imaginations with "en-lightning" ideas on May 10th.
The five innovators included: Paul Sereno (University of Chicago), Audrey Petty (Illinois Humanities Council), Vicky Kalogera (CIERA-Northwestern University), Miguel De Baca (Lake Forest College), and Eugenia Cheng (The Art Institute of Chicago). Co-hosted by The Phi Beta Kappa Society & The Phi Beta Kappa Association of the Chicago Area and held at the Chicago History Museum, over 200 members of the public enjoyed the talks, which were part of PBK's Arts & Sciences Cities of Distinction program.
View all 5-minute videos from (En)Lightning Talks Chicago.