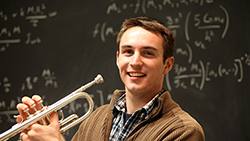 During his undergraduate career at Northwestern, Kyle Kremer combined his love of the planets and music into a dual physics and trumpet degree. Now a graduate student in the Physics & Astronomy department, he brought that love to the broader Northwestern community in the Solar System Symphony concert on May 24th.
Astronomy visualizations were displayed on stage as the Bienen Brass Ensemble performed music from Gustav Holst's The Planets and Strauss' Also sprach Zarathustra. The program also included the world premiere of Timothy Higgins' Sinfonietta. Afterwards, attendees had the opportunity to learn more about the solar system from CIERA researchers with a telescope viewing outside the Pick-Staiger venue on Arts Circle West.
This isn't the first time Kremer has brought together music and science. He performed two science-themed music concerts with musicians from the Civic Orchestra of Chicago at Nettelhorst Elementary in the past year. The first concert was part of the school's "Science Night", and the second was for a school assembly that included over 300 attendees.
Kremer hopes the May 24th event was the inaugural concert of a series of similar events, where he can continue to share his dual passions with the broader community. In 2012, he told Northwestern magazine that "almost everyone loves thinking about astronomy, physically or philosophically."