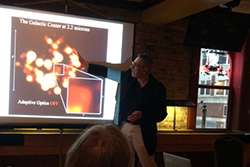 Nearly 70 people from the Northwestern and Evanston area communities showed up despite a terrific thunderstorm to the Firehouse Grill May 25 to talk about the black hole at the core of the Milky Way Galaxy. Professor Farhad Yusef-Zadeh shared the evidence of this black hole, which is 4 million times the mass of the Sun, and its fascinating daily activity that helps young stars form despite the harsh environment.
Northwestern's Science Café is an informal forum for the local community of science enthusiasts to gather and learn about interesting topics. This talk was the last one of the year – stay tuned for new talks in September!
Science Café is sponsored by Northwestern's Vice President of Information Technology, Northwestern's Vice President for Research, and NU Chapter 22 of Sigma Xi.