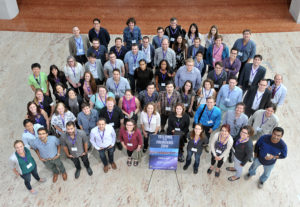 Forty invited postdoctoral fellows gathered from around the U.S. and Canada from August 31 – September 2 for CIERA's Fellows at the Frontiers 2016 (FF16). A wide range of research topics was covered during the 3-day conference at Norris University Center, as each scientist came to the podium to give a 20-minute talk on their area of expertise. The talks were organized in groups of four per session, in a refreshing random sequence to prevent "topic fatigue." Session breaks were provided to allow this new generation of researchers to network with members of the audience (primarily graduate students, faculty, and science enthusiasts from the community) as well as with each other. Please view the FF16 Scientific Program online to find talk titles and abstracts.
The fellows and attendees enjoyed an opening night reception and lunch at the new Ryan Center for the Musical Arts. Several fellows stayed through the holiday weekend for the Chicago Jazz Festival. On the final day of the conference, a special lunch was held with American Astronomical Society president Christine Jones Forman. Dr. Jones Forman invited an informal discussion on "anything but science," which led to a dialog on careers, among many topics. Dr. Jones Forman made a point of encouraging the fellows to write to their congressional representatives to inform them of their work and to thank them for crucial federal support.
FF16 is a sequel to the 2011 CIERA inaugural conference entitled "The Future of Astronomy — Fellows at the Frontiers of Science." At future occurrences of this event, we hope to see several of the FF16 speakers return to Evanston!
FF16 Scientific
Organizing Committee
Event Support,
Graduate Students
Event Support,
Staff Members
Fred Rasio (chair)
Sourav Chatterjee
Claude-André Faucher-Giguère
Laura Fissel
Vicky Kalogera
Alex Richings
Laura Sampson
Peter Ashton
Katie Breivik
Adam Dempsey
Fani Dosopoulou
Sam Hadden
Zach Hafen
Michael Katz
Niharika Sravan
Mike Zevin
Peter Anglada
John Everett
Gretchen Oehlschlager
Michelle Paulsen
Lisa Raymond
Melodie Swanson
CIERA's Fellows at the Frontiers 2016 conference was made possible by the National Science Foundation, grant number 1518974, as well as CIERA's generous circle of donors.