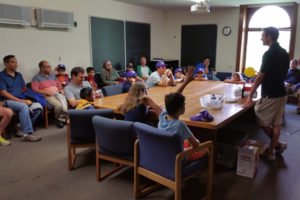 Every year, Northwestern University Athletics organizes an NU STEM & Sports Day: as part of Saturday pre-game activities, they invite Scouts and their families to campus to sample the Science, Technology, Engineering, and Mathematics (STEM) research that Northwestern pursues.
At this year's event, on September 12th, Northwestern astronomers contributed by hosting about 25 Boy Scouts, Girl Scouts, their parents and brothers & sisters at Dearborn Observatory. Graduate student Cody Dirks gave everyone the opportunity to view the Sun through two different telescopes (with solar filters!). Not only were we lucky that the weather cleared just in time for the event, but there was also a solar storm visible. Then, graduate student Kyle Kremer gave the group a short introduction to the solar system, showed the students a demonstration on the vacuum of space, and answered questions from all attendees — from the young scouts to the parents who came with them.
Thanks to Kyle & Cody for their work in hosting all of these students, and to Dearborn Observatory!