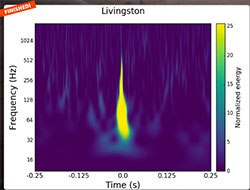 LIGO, the Laser Interferometer Gravitational-wave Observatory, is the most sensitive and complex gravitational experiment ever created. When researchers look at the information LIGO receives from the Universe, they also confront the instrumental and environmental noise the observatory picks up. Gravity Spy lets the lay public act as citizen scientists to help categorize noise, or glitches, in the massive amounts of data coming from the detectors here on Earth that first heard gravitational waves.
As the Gravity Spy team explains, "Humans still are far better than computers at recognizing subtle differences across images and when an image simply does not fit within a known category. Please help us identify all of the glitch morphologies and open up an even bigger window into the gravitational wave universe!"
The Gravity Spy team is made up of LIGO researchers within CIERA, LIGO researchers at Cal State Fullerton, machine learning researchers at Northwestern University, crowd-sourced science researchers at Syracuse University, and Zooniverse web developers. Gravity Spy is funded by the NSF INSPIRE 1547880 grant.
Learn more at gravityspy.org.
Read the CIERA Research Highlight.
Read the Daily Zooniverse Announcement.
Read Citizen Scientists Join Search for Gravitational Waves on Symmetry.
Read Researchers Turn to "Citizen Scientists" for Help Identifying Gravitational Waves from the University of Alabama, Huntsville.
Read about Gravity Spy in Syracuse University's The Daily Orange.
Read Physics Student a 'Gravity Spy' from California State University, Fullerton.
Read LIGO Magazine article Written by graduate student, Michael Zevin
Read Advancing the Search for Gravitational Waves with Next-Generation Citizen Science on CQG+.