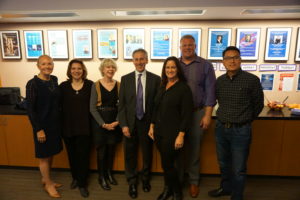 CIERA has formed a diverse, external group of advisors to serve as its Board of Visitors. Members joined the group because they love science broadly, astronomy in particular, and are eager to see astronomy at Northwestern continue to thrive and expand. In order to strategize, advise, and assist with CIERA's mission and future growth, the Board met on October 21 for its inaugural meeting.
During their meeting the Board heard from Provost Dan Linzer (pictured with Board members, left), Vice President for Research Jay Walsh, and Executive Director of Development for Schools and Programs, WE WILL Campaign, David Nacol. The Board also got to meet the new astronomy faculty member, Raffaella Margutti, and hear about the research conducted by some of CIERA's postdoctoral fellows: Fabio Antonini, Laura Sampson, Adam Miller, and Ben Nelson.
Learn more about CIERA's Board of Visitors and CIERA in WE WILL, the campaign for Northwestern.