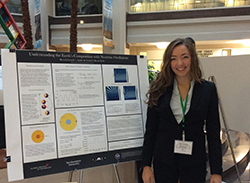 CIERA REU program participant and Illinois Institute of Technology undergraduate student Beverly Lowell presented at the National Science Foundation's Council on Undergraduate Research (CUR) Symposium in Washington, DC last week. She was chosen to present her research from the CIERA REU program this past summer on the topic "Understanding the Earth's Composition through Neutrino Oscillations." Lowell was advised on the project by Prof. André de Gouvêa, Department of Physics and Astronomy. CIERA Director Vicky Kalogera congratulated Lowell and noted how great it is when the CIERA REU program can "enable students to have exactly this kind of experience!"
Learn more about the CIERA REU (Research Experiences for Undergraduates) program.
View the CUR symposium event program.