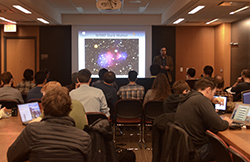 On October 26, graduate student Mike Zevin hosted the inaugural Rapid Fire Research event where 10 students had the opportunity to practice the art of presenting research. The annual event showcases graduate and undergraduate physics and astronomy student research at Northwestern with the purpose of developing the skills necessary to "communicate research in a clear, concise fashion."
Presentations were scored by a panel of faculty and post-doctoral fellows based on research presentation and effectiveness of communications. The winners receive cash prizes for the first place and runner-up graduate student and the first place and runner-up undergraduate student.
The graduate student winner was Zach Hafen and runner-up Katie Breivik. The undergraduate winner was Trent Cwiok and runner-up Benjamin Moy. Congratulations to everyone who presented!
Learn more about Rapid Fire Research.