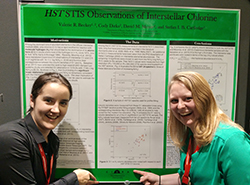 Valerie Becker and Eryn Cangi, students from CIERA's Research Experience for Undergraduates Program, each presented research at this year's Quadrennial Physics Congress (PhysCon). From the web site, "PhysCon brings together physics students, alumni, and faculty members for three days of frontier physics, poster sessions, interactive professional development workshops, and networking. It is the largest gathering of undergraduate physics students in the world!"
Valerie presented "HST STIS Observations of Interstellar Chlorine," which she developed at the CIERA REU program this past summer with advisor Prof. Dave Meyer. Eryn presented "Delineating the Migrating Solar and Lunar Semidiurnal Atmospheric Tides in the General Circulation Models," a poster she created at the Laboratory for Atmospheric and Space Physics in Boulder. Eryn's work at CIERA took place in 2015 with Prof. Daniel Abrams.
Though Eryn's REU cohort at Northwestern was 2015 and Valerie's 2016, they were able to connect at PhysCon, a meeting that highlights networking. Eryn says, "REUs help students build a network early in their careers. It was great to experience it in action and I am glad Valerie had it in mind to look for me on the schedule." Valerie agreed: "I was excited to learn how the [CIERA REU] experience affected her career, if we had similar (wonderful) experiences in our different years, and if there was any advice she wanted to tell me going forward."
Learn more about their work! Visit the REU web sites of Valerie Becker and Eryn Cangi.
Check out the CIERA Research Experience for Undergraduates (REU) Program.
Learn about PhysCon.