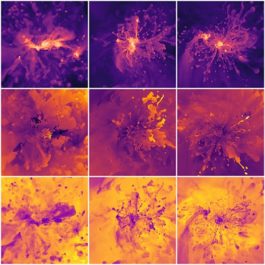 Northwestern's Science in Society holds an annual competition to find the most beautiful scientific images from researchers all over campus. Entries to this sixth year of the contest came from medicine, chemistry, engineering, and nanotechnology, among others.
Physics & Astronomy graduate student Zachary Hafen used computer modelling to create an image of a single galaxy evolving over time. His image, One Galaxy, Multiple Perspectives, won an Honorable Mention in this year's contest.
Visit HELIX Magazine, the online publication from Science in Society, to view a gallery of the winning images from 2016 and to read about One Galaxy, Multiple Perspectives.
Watch the interview of Science in Society's Sara Grady on WTTW Chicago Tonight.
Visit the display of winning images in December at the Evanston Public Library.
View the artwork created by Evanston Township High School students, based on the scientific images.