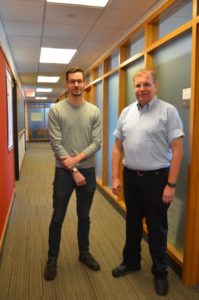 Science, technology, engineering, and mathematics (STEM) are crucial to innovation, yet many challenges exist to producing highly qualified STEM graduates. CIERA Professor Dave Meyer and graduate student Cody Dirks implemented a pilot of a new program called Engaging Introductory Astronomy Students in Authentic Research through Citizen Science through a National Science Foundation (NSF) initiative called Improving Undergraduate Science Education (IUSE).
This NSF-IUSE supported pilot curriculum project created at CIERA encourages development in undergraduate STEM education through experiential teaching, innovative metrics of learning, and undergraduate research. In addition to Northwestern, the project is being pilot-tested at Oakton Community College, University of St. Thomas, and University of Pittsburgh for comparison. A key element is encouraging student participation in scientific processes.
With the help of the Adler Planetarium, Meyer and Dirks implemented the IUSE pilot in Meyer's Astronomy 120 course, Highlights of Astronomy, this past fall. In place of a traditional final paper in which students assess the validity of a news article reporting on an astronomical discovery, students designed and presented a scientific project from a set of data.
"We're trying to give students a chance to do science of their own by getting their hands on some data and letting them come up with an actual scientific project," said Dirks.
In place of traditional classroom lectures about galaxies, Meyer also "flipped the classroom" by creating a series of online video lectures which created in-class time to run examples and creative activities.
The first half of the quarter was spent accustoming students to large amounts of data and giving them tools like spreadsheet manipulation and basic statistical analysis. For instance, Meyer would have students work on data that he would use to demonstrate concepts like Hubble's Law.
The second half of the quarter exposed them to real-world examples of larger datasets that students would analyze for the final project. Meyer gave students a spreadsheet of 20,000 rows of data about galaxies—including their magnitudes, size estimates, etc.—from Sloan Digital Sky Survey. Based on what they learned in class about galaxies, students would come up with a research question.
For the final project, students prepared a 4-minute narrated video that explained their project idea, data analysis, results, and a summary of what they learned. Dirks noted that this method allows students to understand for themselves the process that goes into producing a scientific article, analyzing data, and producing results.
So far students have enjoyed the ability to be hands-on with data. Dirks said, "a lot of them like the idea of getting to use actual data for a project, which is the point to begin with, to get them exposed to using actual data and doing a scientific project of their own even if they aren't a STEM major."
The program will be implemented in the same class next fall with Meyer, Dirks, and possibly another Teaching Assistant with several changes to refine the program. If successful, the program will be an encouraging step towards implementation in classrooms beyond Northwestern.