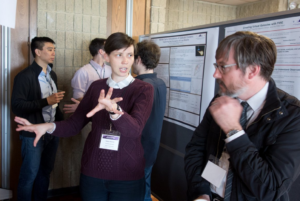 To celebrate and highlight advanced research computing at Northwestern, the fourth annual Computational Research Day was held on April 18th. This all-day, campus-wide event included workshops, presentations from Northwestern researchers and guest speakers, and a poster competition sponsored by CIERA and NICO (Northwestern Institute on Complex Systems).
Professor Claude-André Faucher-Giguère, who studies galaxy formation & evolution at CIERA, helped lead an informal discussion and networking session on funding and leveraging high-performance computing resources. The following graduate students with connections to CIERA presented posters in the poster competition: Sara Bahaadini, Katie Breivik, Eve Chase, Josh Fixelle, Alex Gurvich, Zach Hafen, Jason Hwang, and Kyle Kremer.
Computational Research Day is hosted by Northwestern Information Technology and sponsored in conjunction with Weinberg College of Arts and Sciences, McCormick School of Engineering and Applied Science, Kellogg School of Management, Feinberg School of Medicine, Office for Research, The Graduate School, and Northwestern University Libraries.
CIERA Researchers' Poster Titles:
Deep Multi-view Models for Glitch Classification – Sara Bahaadini
Gravitational-Wave Sky Localization in the Advanced Detector Era – Eve Chase
Stellar Mass Black Hole – Star Collisions with Smoothed-Particle Hydrodynamics – Josh Fixelle
Simulations of Galaxy Formation with Resolved Supernova Feedback – Alex Gurvich
Distinguishing Between Formation Channels for Binary Black Holes with LISA – Katelyn Breivik (pictured above)
Collisions in Tightly-Packed Exoplanet Systems – Jason Hwang
Monte Carlo Simulations of Globular Clusters – Kyle Kremer
Interpreting the Universe with Virtual Galaxies – Zachary Hafen