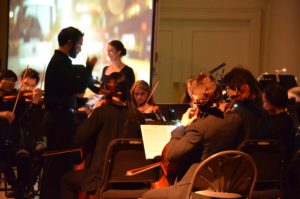 On May 15, about 150 people gathered at Nichols Concert Hall to attend a CIERA music and astronomy event called "A Shout Across Time". The multimedia performance combined science and music by integrating astronomy visuals, narration, and live classical music performed by students from Northwestern's Bienen School of Music. CIERA postdoctoral alumna and winner of L'Oreal USA's prestigious "For Women in Science" Fellowship Laura Sampson funded the event as part of her effort to develop astronomy outreach programs. The evening was organized by Physics & Astronomy Graduate Student and accomplished musician Kyle Kremer as part of his Cosmos in Concert initiative. This event marks another combined astronomy and music event for Kremer who has a well-known history of combing the two. During his undergraduate career, Kremer pursued a dual degree in physics and trumpet and has since created multiple science-themed music concerts as part of his effort to bring astronomy and music to the public.
The evening featured two pieces to celebrate two events in modern astronomy. The first, Eclipse, displayed images of planets and videos of solar flares set to music for brass quintet arranged by Kremer to highlight the upcoming 2017 solar eclipse. The second, A Shout Across Time, projected videos related to time, mathematics, and Einstein to illustrate and commemorate Einstein's theories on general relativity, black holes, and gravitational waves. The visuals were set to original music composed by Ira Mowitz. Between the pieces, Sampson described the evolution of Einstein's theories and our current fascination with gravitational waves.
Learn more about Kyle Kremer's Cosmos in Concert initiative.
Go to the Northwestern News story on this event.
Read the event review in Chicago Splash magazine.
Check out our safe viewing guide for the 2017 Solar Eclipse.