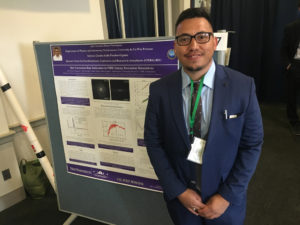 This April, José Flores Velazquez presented his research in Washington, D.C. as part of the 22nd Annual Posters on the Hill conference organized by the Council on Undergraduate Research. José is an undergraduate Physics & Astronomy major and Math minor at Cal Poly Pomona, who worked with Prof. Claude-André Faucher-Giguère in the summer of 2017 as part of the CIERA-REU program at Northwestern University.
José's poster, titled Star Formation Rate Indicators in the FIRE Galaxy Formation Simulations, was one of only 60 selected out of 400 undergraduate applicants for this honor of presenting on Capitol Hill. The students' research projects went through a rigorous, highly competitive review process and were deemed best from around the nation.
José was also recently awarded a prestigious NSF Graduate Research Fellowship. Next year, he will join the graduate program at UC Irvine. Congratulations, José!
Learn more about Posters on the Hill.
Visit José Flores Velazquez's website.