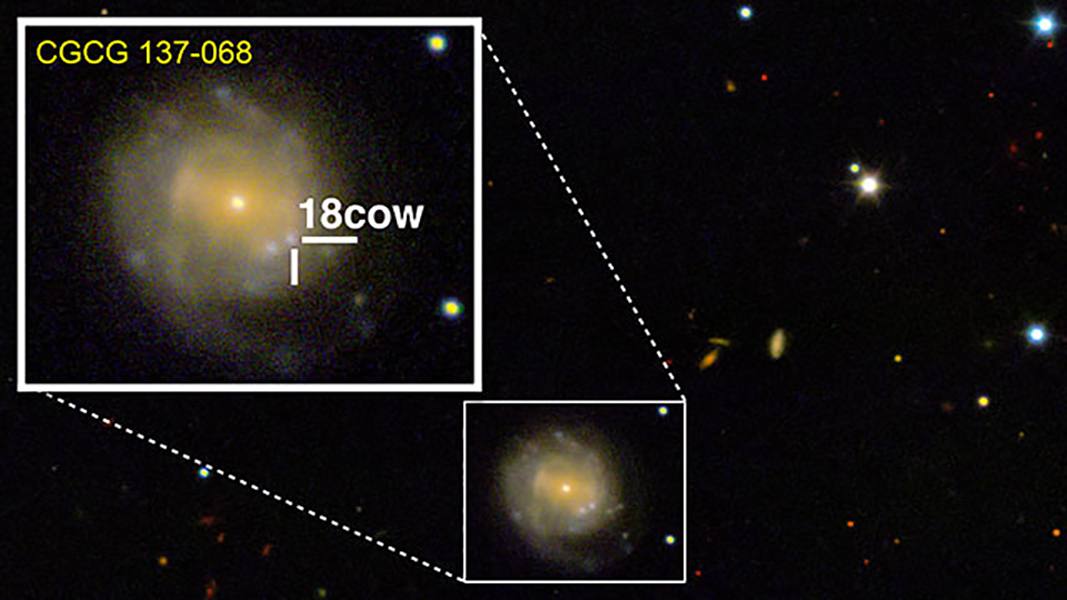 "A Northwestern University-led international team is getting closer to understanding the mysteriously bright object that burst in the northern sky this summer.
On June 17, the ATLAS survey's twin telescopes in Hawaii found a spectacularly bright anomaly 200 million light years away in the Hercules constellation. Dubbed AT2018cow or "The Cow," the object quickly flared up, then vanished almost as quickly.
After combining several imaging sources, including hard X-rays and radiowaves, the multi-institutional team now speculates that the telescopes captured the exact moment a star collapsed to form a compact object, such as a black hole or neutron star. The stellar debris, approaching and swirling around the object's event horizon, caused the remarkably bright glow.
This rare event will help astronomers better understand the physics at play within the first moments of the creation of a black hole or neutron star. "We think that 'The Cow' is the formation of an accreting black hole or neutron star," said Northwestern's Raffaella Margutti, who led the research. "We know from theory that black holes and neutron stars form when a star dies, but we've never seen them right after they are born. Never."
Read the full article by Amanda Morris on Northwestern Now.
Roundup of Media Mentions of CIERA/Northwestern
Keck Observatory, "Birth Of A Black Hole Or Neutron Star Captured For The First Time" republished article by Amanda Morris
The Verge, "For the first time, astronomers see the signatures of a newly birthed black hole or neutron star" by Loren Grush
European Space Agency (ESA), "Team of Telescopes Finds X-Ray Engine Inside Mysterious Supernova"
Daily Mail, "Holy cow! Scientists think they could have caught the first EVER picture of a black hole being born 200 million light years away as they name mystery space object 'AT2018cow'" by Joe Pinkstone
ABC, "Mysterious cosmic 'Cow' may have produced a black hole or fast-spinning neutron star" by Genelle Weule
National Geographic, "Astronomers may have finally seen a star become a black hole" by Michael Greshko
Cosmos, "Interpreting the cosmic Cow" by Andrew Masterson
Independent, "Scientists may have seen birth of a black hole for first time ever" by Andrew Griffin
Astronomy, "In a first, astronomers witness the birth of black hole or neutron star" by Chelsea Gohd
Science Daily, "Birth of a black hole or neutron star captured for first time" republished article by Amanda Morris
Live Science, "This Exploding 'Cow' May Be the First Black Hole Birth Ever Observed" by Brandon Spektor
New Atlas, "Astronomers witness strange space "Cow" give birth to a black hole" by Michael Irving
Engadget, "Researchers may have witnessed the birth of a black hole" by Mallory Locklear
Space.com, "Mysterious 'Cow' Blast in Space May Reveal Birth of a Black Hole" by Mike Wall
Fox, "Exploding 'cow' seen in space might be first black hole birth ever seen" by Chris Ciaccia
CNET, "Mysterious space 'Cow' explosion could be birth of black hole" by Jackson Ryan
CNN, "Holy Cow: Was mysterious flare in space the birth of a black hole?" by Ashley Strickland
The Conversation, "'The Cow' explosion: how astronomers are cracking one of the greatest new mysteries of the sky" by Paul M. Kuin
Quartz, "Astronomers think they've seen the birth of a black hole or neutron star for the very first time" by Olivia Goldhill
Wired, "We may have finally spotted a star turning into a black hole" by Katia Moskvitch and Sanjana Varghese
MIT Technology Review, "The moment a star collapsed into a black hole or neutron star has been spotted for the first time" by Erin Winick
Science Magazine, "Astronomers still can't decipher the 'Cow,' a mysterious explosion in deep space" by Daniel Clery
Washington Post, "Scientists had never seen anything like this supernova. Could it be a newborn black hole?" by Sarah Kaplan
The Atlantic, "Astronomers Glimpse a Luminous Object Born From a Star's Death" by Marina Koren
Popular Science, "An exploding space cow could be linked to a newborn black hole" by Neel V. Patel
Motherboard (Vice), "Astronomers May Have Seen a Star Turn Into a Black Hole for the First Time" by Daniel Oberhaus
IFL Science, "Scientists Believe They May Have Captured The First Image Of A Black Hole Being Born" by Stephen Luntz
Indian Express, "In a first, scientists may have seen the birth of a black hole" by PTI
Futurism, "Astronomers May Have Just Spotted the Birth of a Black Hole" by Dan Robitzski
Science News, "A cosmic flare called the 'Cow' may reveal a new way that stars die" by Lisa Grossman
Science Magazine, "Our favorite science news stories of 2019" by David Grimm