By: Lydia Rivers (@lydiuhrivers)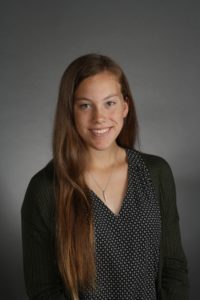 Elizabeth Welch-Jani won the highest award possible at the Illinois Junior Academy of Science State Fair for her paper on the astrophysics research she has conducted over the last year under Associate Director of CIERA, Professor Shane Larson. At the state competition at Southern Illinois University, she was awarded Gold and Top Paper recognition in the Senior Division, along with a monetary prize. Hers was the only paper in the Astronomy category to earn top ten honors.
Elizabeth submitted a 40-page paper and presented her work to a panel of judges at the state competition, and said that "It was fun to answer the judges' questions and have the opportunity to demonstrate the depth of knowledge I have gained through my research. It was a lot of work, and it is empowering to know that I can communicate these complicated concepts effectively."
A 15-year-old rising senior at Glenbrook South High School (GBS), Elizabeth will be spending this summer studying abroad in Spain for two weeks, running a community-focused and reasonably priced tutoring company with fellow GBS classmates, working on college applications, and continuing the research she began a year ago on gravitational waves from white dwarf binaries, with hopes of publishing a paper before school starts again.
"I'm predicting the gravitational wave signal that LISA will see from binary white dwarf stars in the dark matter halo of the Milky Way Galaxy. What I've been doing is creating a simulation to populate the dark matter halo with white dwarf binaries." LISA, the Laser Interferometer Space Antenna, is a space-based gravitational wave observatory that will be launched in 2034.
Elizabeth has been taking data from Larson's former graduate student Katie Breivik's simulation for entire galaxies and making histograms of the mass and period distributions of white dwarfs to create her own simulation. The goal is to use the new simulation to calculate the gravitational wave signal LISA will detect from white dwarfs, which may help inform our understanding of the composition of dark matter.
The beginning of her research career came about two years ago, when Elizabeth spoke with Professor Larson after a lecture he gave on gravitational waves. This led her to participate in CIERA's High School Student Summer Research Program where she learned about astronomy, computer programming, and data analysis, before being able to work on individual research projects. She began researching with Larson independently of the program last summer and throughout the 2018-19 school year. She is excited to continue her research position this summer.
"I've wanted to be an astrophysicist since I was 3. I've always loved space," Elizabeth said. "It's fun to do research, and I feel really lucky to have this opportunity. I've known what I'm interested in for a long time, so to be able to actually find out something and possibly make a difference has really solidified my passion for astrophysics."