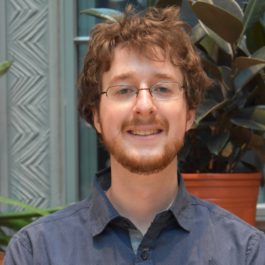 "Be willing to give a chance to stuff that seems boring at first. The depth may astound you once you get through the beginning."
"Zachary Hafen is a PhD candidate in the Department of Physics and Astronomy. Through his research, he explores virtual galaxies and their surroundings, and he uses these explorations to give insight into how these massive structures form. In collaboration with the Northwestern Academy for Chicago Public Schools and Reach for the Stars, Zachary developed "Vault," a program where he supports student-led data expeditions to bring research experiences to high school students. In addition, two of his images were finalists in Helix Magazine's Scientific Image Contest.
How would you describe your research and/or work to a non-academic audience?
In my research I create and explore virtual galaxies–supercomputer-simulated galaxies designed to look and act like real galaxies. The goal is to traverse and manipulate entire galaxies in ways that would be impossible with real galaxies and to learn how we can improve our simulated galaxies to make them more realistic."
Read the full interview in the TGS Spotlight Series.