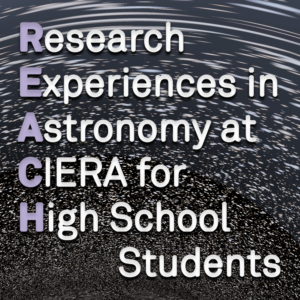 Research Experiences in Astronomy at CIERA for High School Students (REACH) is a highly interactive, 3-week program (with an optional 3-week extension) that provides high school students experience with real astronomy research in an atmosphere of team-style learning, hands-on training, and mentorship from professional scientists.
This summer, 28 high school students and 17 CIERA members took part in this two-session program from June 21st to August 26th. Students participated in astronomy lessons covering topics such as cosmology, spectroscopy, exoplanets, and black holes, while also learning Python computer programming using the REACHpy GitHub tutorial and Google Colab. A limited number of students took part in REACH Further, a 3-week extension where they each worked on an independent research project with a CIERA astronomer. In a survey, 100% of respondents strongly agreed that their mentor was a positive role model and prepared the student adequately. Additionally, 100% strongly agreed "this project makes me more interested in pursuing individual research."
Congratulations to all of the students that participated in the summer research program and thank you to all of the graduate students, faculty, and staff that helped make this program possible!
Program Staff
Patrick Sheehan – Program Director
Peter Blanchard – Program Assistant Director
Michael Stroh – Computational Lead
James Schottelkotte – Admin/Coordinator
Jillian Rastinejad – REACH Fellow, Mentor Lead
Miguel Martinez – REACH Fellow, Computation Lesson Development and Instruction
Fulya Kiroglu – CIERA BoV Fellow, Computation Lesson Development and Instruction
Kari Frank – Director of Operations
Mentors
Michael Stroh
Fulya Kiroglu
Giacomo Fragione
Miguel Martinez
Monica Gallegos-Garcia
Rachel Zhang
Liam O'Connor
Lindsay DeMarchi
Huei Sears
Jonathan Roberts
Vic Dong
Elena Gonzalez
Nabeel Rehemtulla
Additional instructors/helpers
Diego Munoz
Dennis Lee
Lindsay DeMarchi
Camille Liotine
Max Paik
Sam Imperato
Quotes from Students
"I'd say overall the research portion was amazing! [They] were super helpful and encouraging mentors!!"
"I really loved this experience, and I am really grateful to everyone for making it possible! [My mentor] was an amazing mentor, and I thoroughly enjoyed working with him."
"It was really fun and I was able to get a lot of experience being an astronomical researcher."