Two public events offered March 14 in conjunction with working conference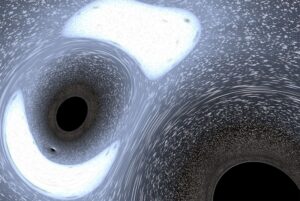 Gravitational waves — ripples in the fabric of spacetime first predicted by Albert Einstein in 1916 — were detected for the first time on Sept. 14, 2015. A small group of Northwestern University faculty, postdoctoral fellows and students were a critical part of that historic discovery, made by a team of more than 1,000 scientists and engineers from around the world.
Since that thrilling detection of a gravitational-wave signal produced by the collision of two massive black holes, more than 90 signals from the mergers of black holes and/or neutron stars have been discovered using sophisticated detectors in the U.S. (LIGO Hanford and LIGO Livingston) and Italy (Virgo). Another detector in Japan, KAGRA, is expected to join the LIGO and Virgo detectors later this year in their next observing run.
Now hundreds of gravitational-wave researchers involved in these discoveries are coming to Northwestern for an international conference March 13-17.
The community of the three science collaborations holds working meetings twice a year, one in the U.S. and one elsewhere. This month's conference, the first in-person meeting in the U.S. since the pandemic, will be hosted by Northwestern's Center for Interdisciplinary Exploration and Research in Astrophysics (CIERA).
"The face-to-face presentations, discussions and brainstorming during the conference are critical as we feverishly prepare for our next period of gravitational-wave discoveries with detectors featuring the highest sensitivity ever," CIERA director Vicky Kalogera said. She is the faculty lead of the Northwestern group in the LIGO Scientific Collaboration (LSC) and the Daniel I. Linzer Distinguished University Professor of Physics and Astronomy in the Weinberg College of Arts and Sciences.
Continue to the full Northwestern News Story.