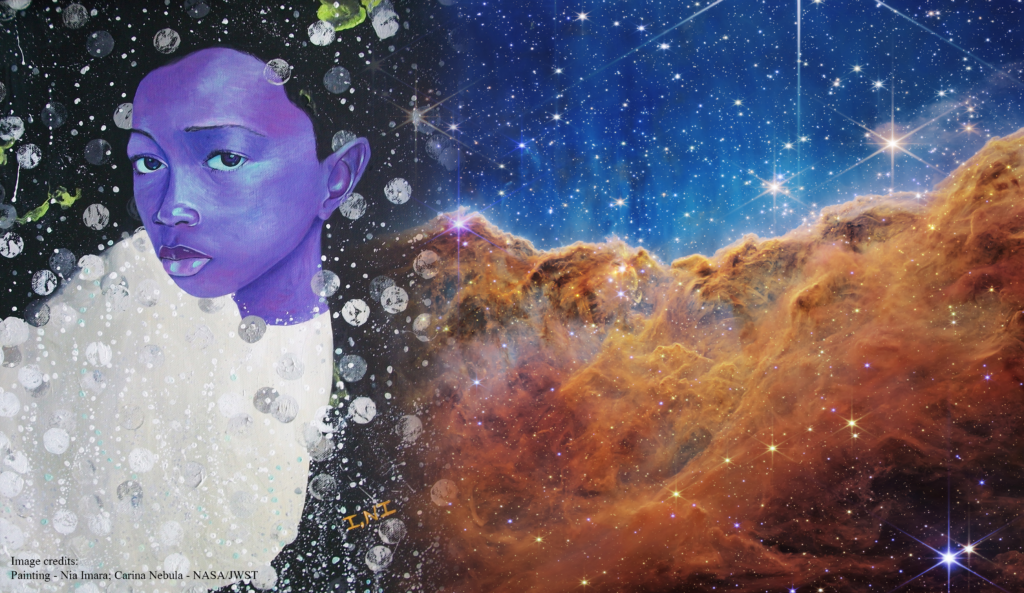 On May 18, 2023, Dr. Nia Imara, astrophysicist and visual artist, presented CIERA's Interdisciplinary Colloquium to 55 individuals at The Block Museum.  Her talk, "Interconnected: A Journey Through Inner and Outer Space", explored the ways that art and science intersect and how culture plays a major role in both of these uniquely human endeavors.
Dr. Imara investigates the dynamic processes through which stars are born within molecular clouds.  During her talk she spoke of the challenges inherent in using two-dimensional observations to interpret the complex, three-dimensional structure of molecular clouds.  To address these difficulties, she uses 3D printing as a tool to more accurately represent stellar nurseries and to interactively engage human intuition.  "I wanted to be able to hold the stars in my hand," she said. Dr. Imara also offered reflections on what inspires her work as an artist-scientist, saying in part, "Today I'm more drawn to  science because it deepens my sense of mystery of the universe and because the lessons we learn from nature can aid in our social and even spiritual development."
Introduced by CIERA Director Dr. Vicky Kalogera, Dr. Imara is a professor of astronomy at UC Santa Cruz, where she investigates how stars are born in the Milky Way and other galaxies throughout the universe.  She studied astrophysics at UC Berkeley and did her postdoctoral research at Harvard University where she was a John Harvard Distinguished Science Fellow.
Nia Imara is the founder/director of Onaketa, a nonprofit that provides free STEM tutoring and other educational resources to black and brown youth.
Learn more