On May 22, the CIERA Café was filled to capacity to hear award-winning Kellogg Professor and former CEO of Baxter International Inc. Harry Kraemer speak about his book, "Your 168: Finding Purpose and Satisfaction in a Values-Based Life", in the most recent iteration of the CIERA Connections series.   
Based on the universal premise of 168 hours in a week, Professor Kraemer's talk challenged audience members to think about how they want to use those hours. While noting that no two people would exactly share an answer to this question, Professor Kramer emphasized the importance of creating a habit of regular self-reflection on time and how it is used in pursuit of personal and career goals. 
Proceeds from sales of Your 168 go the One Acre Fund, an organization that supplies smallholder farmers in East Africa with asset-based loans and agriculture training services.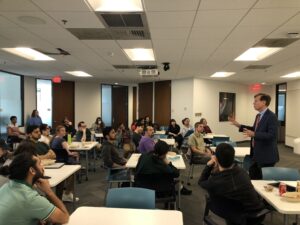 Professor Kraemer was introduced by CIERA Director Vicky Kalogera. The CIERA Connections series is designed to provide junior researchers exposure to career opportunities outside academia through informal seminars.
Learn more