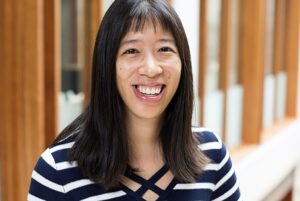 On July 31, 2023, CIERA Professor Wen-fai Fong was selected as an AT&T Research Fellow by Northwestern's Weinberg College of Arts and Sciences.  This appointment, which lasts from September 2023 to August 2025, recognizes the excellence of her achievements and aims to support her current projects.
"I am truly humbled to receive this fellowship, and I am thrilled to continue unraveling the mysteries surrounding cosmic explosions alongside my research group," said Professor Fong.  "Of particular importance to me is to strive to create a welcoming environment for students of all backgrounds to conduct astronomy and thrive."
Professor Fong joined the CIERA faculty in 2018.  Over the past several years, she has led multi-wavelength observational campaigns, garnering national recognition for her studies of short gamma-ray bursts.
Congratulations, Wen-fai!