From August 28 to September 1, 2023, 115 researchers from around the world gathered in Evanston for the MODEST-23 star clusters conference. The conference, hosted by CIERA and held in Northwestern University's Harris Hall, brought together experts in Modeling and Observing DEnse STellar Systems (MODEST).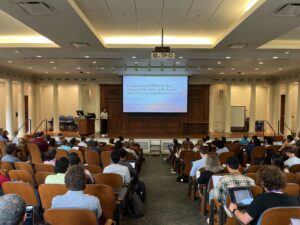 "MODEST has a rich history and has served as an annual gathering for our community for over two decades," said CIERA Professor Giacomo Fragione, chair of the MODEST-23 Scientific Organizing Committee. "This is why we took on the challenge of reviving this series of conferences [since the pandemic]. The community has responded enthusiastically to this long-awaited rendezvous."
During the conference, participants shared their research on the latest in stellar astrophysics through 60+ talks, two panel discussions, 30+ posters, and countless informal conversations. Posters were displayed in Harris Hall throughout the conference and highlighted at a poster session with pizza on Tuesday, August 29. On the evening of Wednesday, August 30, conference-goers came together for a sunny outdoor banquet dinner at Northwestern University's Lakefill, right on the shore of Lake Michigan. The next day, organizers led an observing night at Northwestern's historic Dearborn Observatory.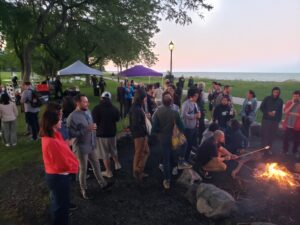 "In my opinion, the conference went very smoothly," said graduate student and MODEST-23 Local Organizing Committee co-chair Elena González Prieto. "I heard from many attendees that they really enjoyed the scientific program (topics of the talks as well as the arrangement of the schedule). The attendance in the afternoon poster session exceeded all of my expectations — it was very exciting to see many people going around the posters and chatting for nearly two hours! I also heard quite positive feedback from the Dearborn Observing night, as we got a beautiful clear sky and observed (for the first time for some attendees as well as myself), a star cluster. We also got lots of compliments about the food offered at the banquet as well as the relaxing time around the bonfire!"
"The favorite part of the week for most participants, including myself, was undoubtedly the conference banquet," agreed graduate student and MODEST-23 Local Organizing Committee co-chair Newlin Weatherford. "The outdoor games, lakefront bonfire and super-moon-rise over the lake doubtlessly helped make the event fun for all! For me personally, and those that attended, I think the Dearborn observing night was a close second. We got lucky with excellent observing conditions and showed about ~50 attendees the globular cluster M22, the Ring Nebula, and Saturn with 4-5 of its moons visible. I've given quite a number of public observing tours at Dearborn over my years here and this was probably the best view of Saturn I'd seen."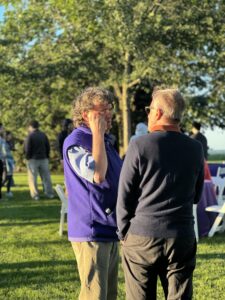 "The primary motivator for the MODEST-23 conference was that this amazing, once annual series had gone three years without a session during the pandemic," said Weatherford. "The CIERA-organized MODEST-18 in Santorini was my first conference and CIERA alum Sourav Chatterjee—my first mentor—hosted the last one in Mumbai back in February of 2020. At both it was striking to me how close-knit our subfield is and how many people whose papers I'd read attend. So MODEST holds a special place in my heart."