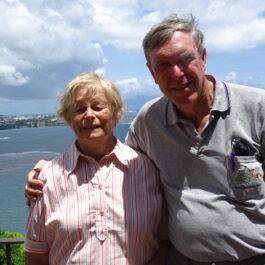 ,
Robert '70 MS '81 MS, Charlene '70 (2023 - current)
Robert Shaw was born in Richmond, VA on Oct 30, 1948. He attended Catholic grade school in 4 states, graduating from Xavier High School in Cincinnati, OH. Mr. Shaw went on to graduate from Northwestern University: BS Mechanical Eng (1970), Ms Management (1981). In June 1970, he married Charlene Shaw (WCAS '70), whom he met at NU's Sheil Center, the Roman Catholic ministry on campus. Together they have two children, Clifford (b 1971) and Alan b (1974)
Mr. Shaw served in the U.S. Navy on nuclear submarines from 1970 to 1975. In 1975 he became a co-owner of Milex Products, Inc., a small medical device company. He held this position until 2003, and today is an angel investor with numerous startup companies.
Mr. Shaw has served on the board of directors of two companies that launched at Northwestern: NuCurrent, a producer of wireless charging technologies, and BriteSeed, a producer of hyperspectral imaging technology and surgical instruments.
Further extending his commitment to the Northwestern community, Mr. Shaw is a member of the Farley Center for Entrepreneurship and Innovation Advisory Board (since 2008); chair of the Mechanical Engineering Advisory Board (since 2018); chair of the NUvention Medical Innovation Advisory Board (since 2017); and a member of the NAA Mentoring Program (since 2017).
Additionally, Mr. Shaw is a former member of the McCormick Advisory Board (2006-21); the WCAS Board of Visitors (2007-13); and the advisory board of the Sheil Catholic Center (2007-08).
In 2013, Mr. and Mrs. Shaw received the NAA Alumni Service Award.
Outside of Northwestern, Mr. Shaw is a member of the Chicago Botanic Garden Board of Trustees. He has also served on the Shedd Aquarium Veterinary Medicine Board and the Field Museum Anthropology Alliance Steering Committee.
Mrs. Charlene Shaw retired when her husband, Robert, sold his medical device business in 2003. She worked behind the scenes in his company doing computer entry, sales analysis, coordinating dinners, and entertaining business associates.
Mrs. Shaw's community activities include the Sheil Advisory Board, Northwestern Alumnae board, and committees of the condominium association. Mrs. Shaw and her husband teach marriage preparation at Northwestern's Newman Center. She is a member of the John Evans Society and a volunteer at the Chicago Botanic Garden.
Charlene and her husband Robert have been married 46 years. They have two sons and four grandsons. While her children were growing up, Mrs. Shaw was a room mother at the local grammar school and tutored math and reading. She also served as a coordinator for a family religious education program and numerous committees at her church.
Mrs. Shaw received her B.A. in anthropology from Northwestern in 1970. She was a member of Alpha Gamma Delta and Sheil Catholic Center.
Mrs. Shaw has been a member of the WCAS Board of Visitors since 2007 and the Alumnae of Northwestern since 2012. She is a former member of the We Will McCormick Campaign Committee (2014-21) and her 40th, 45th (co-chair), and 50th Class Reunion Committees.
In 2013, Mr. and Mrs. Shaw received the NAA Alumni Service Award. Together, Mr. And Mrs. Shaw helped start the Northwestern-Chicago Botanic Garden graduate program in plant biology and conservation that earned them the 2008 Chicago Botanic Garden Excellence in Leadership award, as well as the 2011 Chicago Horticultural Society Medal.