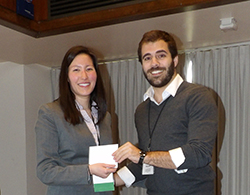 To celebrate and highlight advanced research computing at Northwestern, the third annual Computational Research Day was held on April 19th. Highlights of the day included presentations from Northwestern researchers, guest speakers, the Visualization Challenge sponsored by NVIDIA and a poster session sponsored by CIERA and NICO
(Northwestern Institute on Complex Systems).
CIERA Postdoctoral Fellow Alex Richings gave a talk entitled, "Simulating Galaxies and Large-
scale Structure in the Universe." Physics and Astronomy graduate students Niharika Sravan, Adam Dempsey, and Mike Zevin presented posters. Mike (pictured) took home the first prize of $1500 toward the conference of his choice for his poster on Gravity Spy and LIGO. Assistant Director John Everett helped organize the poster session and postdoc Ben Nelson served as one of the judges. Michelle Paulsen (pictured), CIERA's Director of Education, Outreach, and Communications Programs presented an introduction to the IDEAS program.
Computational Research Day is hosted by Northwestern Information Technology and sponsored in conjunction with Weinberg College of Arts and Sciences, McCormick School of Engineering and Applied Science, Kellogg School of Management, Feinberg School of Medicine, Office for Research, and Northwestern University Libraries.