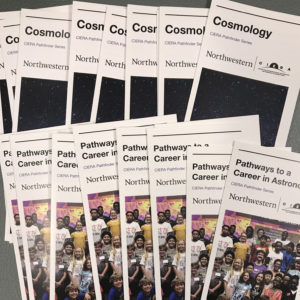 A new educational brochure series has debuted from CIERA, highlighting various topics in astrophysics research at Northwestern. The brochures are written in publicly accessible language, display exciting astronomy images, tie back to active, ongoing initiatives at CIERA, and point to varied resources (books, websites, YouTube videos, etc.) where the reader can learn more about the topic. The brochures are available in print at public outreach events, and stored on the CIERA website (visit Pathfinders Brochures) so that anyone can print them at home.
The idea for these materials came from the CIERA Annual Public Lecture post-event survey, where audience members indicate clearly a desire for "take away" material about the topics covered at the lectures, in order to continue their learning beyond the event. Many of CIERA's marketing materials serve to build our donor base or inform readers about our programs. The Pathfinder series was specifically designed to be content-rich, research-focused, and educational.
Visit the growing library of Pathfinders brochures.