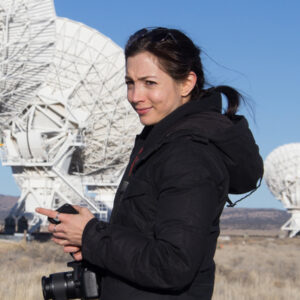 CIERA Postdoctoral Fellow Tarraneh Eftekhari has been named a NASA Einstein Fellow! This NASA fellowship enables Eftekhari, along with 23 other postdoctoral scientists out of nearly 450 applicants, the opportunity to pursue independent research in any area of NASA Astrophysics by providing up to 3 years of support.
"I am deeply humbled and honored to have received this fellowship," said Eftekhari. "I see this achievement as not only the culmination of many years of hard work, but also a testament to all those who have provided their guidance and support along the way."
Eftekhari's research focuses on the study of astrophysical transients, ranging from supernovae to fast radio bursts (FRBs), and aims to use radio observations to illuminate the central engines powering these energetic events by characterizing the properties of their environments and outflows.
When asked what led her to pursue this fellowship, Eftekhari remarked, "I originally applied for the NASA Hubble Fellowship last year and was unsuccessful. I felt that since that time, I'd completed a few new projects and was able to formalize a more focused research proposal, so I figured it was worth a shot to try again! I was on the fence for a while, until Prof. Fong reminded me that you miss 100% of the shots you don't take."
The NASA Einstein Fellowship also grants Eftekhari the flexibility to explore new frontiers pertaining to the transient radio sky. Her proposed research plan, titled Illuminating the Progenitors and Environments of Energetic Transients with Radio Observations, includes the largest late-time radio survey of Type II supernovae in the nearby universe. Designed to probe the surrounding environments of supernovae on the largest physical scales studied to date, this late-time radio survey will yield implications for the processes driving mass loss from each star.
"When it comes to fast radio bursts, for example, we still aren't sure exactly what types of astronomical objects produce them," said Eftekhari. "Through my research, I plan to conduct a series of observations that may unveil unique multi-wavelength counterparts to FRBs, shedding light on their progenitor systems."
Eftekhari's proposed research plan was the main component of the fellowship application, and she thanks the support and mentorship of CIERA Postdoctoral Fellow Kate Alexander and Assistant Professor Wen-fai Fong for reviewing and providing feedback on her proposal, in addition to encouraging her to move forward with the fellowship application.
"Working alongside an incredibly supportive research group (the Fong group) has inspired and motivated me to push myself to new bounds," remarked Eftekhari. "Like so many others in academia, I often struggle with feeling like an imposter and doubting my abilities. Receiving this prestigious fellowship was a nice reminder that we are often our harshest critics!"
Congratulations Tarraneh Eftekhari!