This summer, CIERA hosted 14 undergraduate students as a part of the Research Experiences for Undergraduates (REU) program, providing students with the opportunity to pursue an astrophysics-based interdisciplinary research project in collaboration with Northwestern faculty in a number of disciplines. With Aaron Geller as the Director and PI of the REU program and Tjitske Starkenburg as the 2022 season's Co-Director, the program took place in person (after the two previous years were fully remote due to COVID-19).
On top of the wonderful education opportunity, the program also strongly encourages inclusiveness in social interactions among the group. To help build friendship and camaraderie within the REU cohort, field trips were organized to visit Fermilab, Yerkes Observatory, and the Adler Planetarium. The program also organized a career panel discussion, highlighting the range of careers available to astronomers, as well as a panel discussion about graduate school and GRE preparation. In the final week, the REU students finalized their research websites and presented their research results, both virtually through Zoom and in-person at Northwestern with a conference-style poster presentation for family, friends and CIERA faculty and staff.
Congratulations to the talented undergraduates on their hard work this summer and thank you to all of the graduate students, faculty, and staff that helped make this program possible!
Learn more about the 2022 REU student cohort, including their home institutions, Northwestern advisors, and project titles.
2022 REU Students:
Rafael Catena, Dylan Chambers, Trevin Cox, Micaela Foreman, Ian Freeman, Dana Kullgren, Aliaksandra (Sasha) Levina, Ayanna Mann, Esther Miller, Erin Motherway, Darshan Patel, Edin Peskovic, Henry Purcell, & Claire Zwicker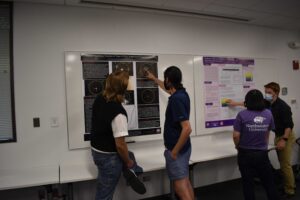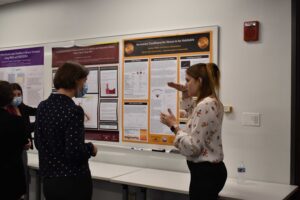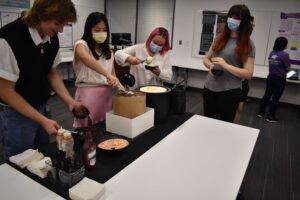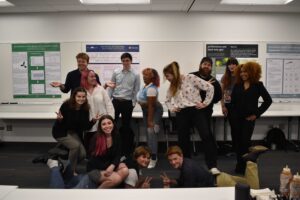 REU students and CIERA faculty and staff enjoy a conference style poster session at Northwestern, with ice cream!