"I have long envisioned working at the intersection of my two biggest passions: science and music," says CIERA Post-Baccalaureate Research Fellow Darsan Swaroop Bellie. "I created the Star Eyes Initiative with the hope of giving back to the arts and science communities by further developing music as a means of increasing public interest in science, drawing young individuals from diverse audiences into science, and stressing the importance of being creative in whatever they decide to do."
On March 15, 2023, Bellie debuted Star Eyes, a new outreach initiative, at the networking event for the CIERA-hosted LIGO-Virgo-KAGRA Collaboration Meeting. Bellie, on drums, was joined by a five-piece jazz band of renowned musicians: Lenard Simpson on saxophone, Northwestern Jazz Studies undergraduate student Jesse Lear on double bass, Northwestern Jazz Studies master's student Mikey Ahearn on trumpet and flugelhorn, and Bienen School of Music Faculty Member Jeremy Kahn on piano. Lear and Ahearn are both currently completing the last quarter of their degrees. In front of hundreds of gravitational-wave researchers, they performed Bellie's original composition, "Dance of the Black Holes", which tells the story of a binary black hole system becoming gravitationally bound, beginning the inspiral phase, and merging, highlighting the gravitational wave implications of the event.
"The timing of the event could not have been more appropriate," said Bellie. "We also played a largely improvised rendition of 'Orbits' as a tribute to the legendary saxophonist and composer Wayne Shorter, who composed the song. Shorter, who passed away only a few days before our event, often thought about the universe and our place in it. He emphasized spontaneity on the bandstand and sought almost telepathic 'cosmic' connections with his bandmates when they performed. I was really grateful for the opportunity to perform at the LIGO-Virgo-KAGRA networking event, and I believe that CIERA's mission, infrastructure, and resources make it the ideal place to kickstart the Star Eyes Initiative."
Bellie, who received undergraduate degrees in both physics and jazz studies from Northwestern in September 2022, hopes that the initiative's unique approach to science communication helps transform audiences into stronger advocates of creative thinking. "The heart of the initiative lies in stressing the importance of creativity, a lifelong skill that is invaluable to all our audiences, especially younger ones, regardless of what they pursue in their lives. Through the cross-disciplinary lens of science and music, I hope we inspire our audiences to take more creative risks whenever they get the chance."
"My biggest artistic goal for the Star Eyes Initiative is to develop a large repertoire of new compositions that creatively incorporate specific elements of cutting-edge scientific concepts in order to more directly communicate scientific narratives through music," Bellie continued. "Another important artistic goal of the initiative is to help stylistically diversify the repertoire used in music-science communication. Instead of only drawing from the Western classical and electronic traditions, as is commonly the case in music-science communication, we hope to incorporate elements from a variety of world music traditions and to specifically emphasize improvisational music. New compositions for the Star Eyes Initiative are often rooted in the jazz tradition, where such cross-cultural musical exchanges are common and perhaps even essential. I hope that the use of diverse musical styles, especially those originating from the cultures of underrepresented groups in science, helps make the initiative's music-science communication efforts more relevant to members of these groups and ultimately helps increase their involvement in science."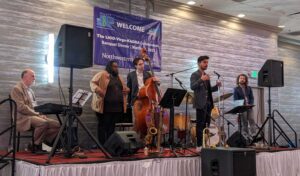 Star Eyes will interact with the public through a variety of programming: musical performances inspired by science at a range of venues, mini-talks by astronomers to provide context for the scientific narratives in each performed piece, panel discussions about science and careers in science, as well as more informal opportunities for interaction between scientists, artists, and the public. The initiative will also focus its efforts directly at K-12 STEAM (Science, Technology, Engineering, Arts, and Mathematics) education through in-school residencies in a variety of Chicago-area communities. "Darsan's work on the Star Eyes Initiative exemplifies the core values and mission of CIERA," said CIERA Education and Outreach Coordinator James Schottelkotte. "He has beautifully tied a scientific phenomenon to the musical arts in his "Dance of the Black Holes" jazz composition – something we can hear and even feel. With STEM education and outreach & interdisciplinary connections as foundational pillars of CIERA, we are proud to support such creations by its members with encouragement and resources to bring these efforts into the community in hopes of inspiring the next generation of STEM thinkers."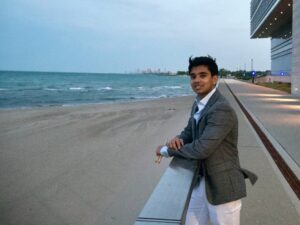 What's next for the Star Eyes Initiative? Most recently, they have partnered with Olivia Zapater and Ellie Levine (NU Alumus), two Chicago-based playwrights with a new original work about women in astronomy. In late April, they are providing programming at a fundraiser for Zapater and Levine's play, "The Women Who Discovered How to Measure the Universe", fostering connections between CIERA astronomers, the actors, and the public.
Beginning next fall, Darsan Swaroop Bellie will be continuing at CIERA and Northwestern's Department of Physics and Astronomy as a graduate student and NSF Graduate Research Fellow. "In the long term," Bellie said, "we hope to develop the Star Eyes Initiative into a vibrant arts and sciences hub both within CIERA and in the scientific community at large."
Learn more