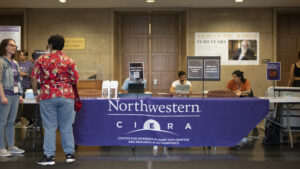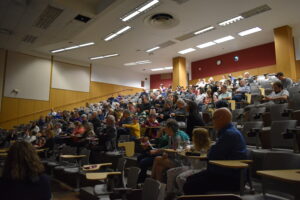 On Friday, May 19, 2023, Northwestern Professor Allison Strom presented CIERA's 2nd annual Astronomy Night Out to a crowd of 165 community members. Introduced by CIERA's Associate Director Shane Larson, Prof Strom's lecture "Sequencing the DNA of Galaxies with JWST", detailed how she and her team are using NASA's Webb Space Telescope and its powerful infrared instruments to uncover the mysteries behind some of our Universe's most distant galaxies.
After the lecture concluded with a live spectroscopy demonstration, guests of all ages perused the hands-on activities staffed by CIERA volunteers and friends. In addition to window constellations and the 'ask a scientist' table, CIERA was delighted to host two community partners. Local artist Jan Pieter Fokkens brought original astronomy-inspired paintings to the event and explained their meaning to attendees while Dean Michael Kousiounelos from the Lake Forest College Astronomy Club brought an original lunar clock called a lunarium. "It was a pleasure and a gift to be able to showcase my work on the combination of science and art at Astronomy Night Out," said Kousiounelos, a current CIERA REU student. "I was able to learn how to communicate my work to a diverse audience and receive advice on where I can take my piece further. The event truly highlighted how much interdisciplinary work is valued by CIERA."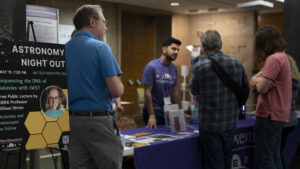 To close out the night, attendees were then invited to Dearborn Observatory to look up at the night sky themselves. Despite cloud cover rolling in, observatory staff opened the roof and let excited guests peek through the historic telescope.
"I was thrilled to see so many families join us in learning about the newest discoveries in astronomy and how researchers in the Evanston community are affecting our understanding of the universe!" said CIERA's Education and Outreach Coordinator James Schottelkotte. "The turnout truly exceeded my expectations."