On Monday, July 31, approximately 30 experts in image processing and astronomy gathered at Northwestern for the inaugural Astro Imaging Workshop. Hosted by CIERA and led by Northwestern Computer Science Professor Emma Alexander and Physics and Astronomy Professor Jason Wang, the workshop was designed to provide an opportunity for interdisciplinary collaboration and discussion.
"We identified an interest and a strength across the Midwest in astronomical image processing — essentially, using computer vision techniques to enable better scientific use of astronomical data — and saw a promising opportunity to bring together experts from across these fields," reflected Professor Alexander. "Additionally, we were able to bring in several rising stars in computational imaging from beyond the Midwest thanks to the International Conference on Computational Photography happening nearby."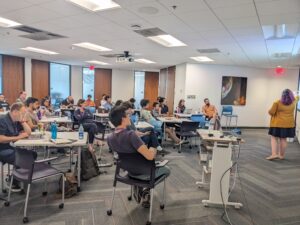 The workshop began in the Mudd Library — home to the Computer Science department — and finished at CIERA. The morning consisted of talks from researchers at a range of institutions (including Northwestern), providing focal points for collaborative discussion groups in the afternoon. "The energy in the room was thrilling as we brought together young experts from disparate fields to explain their cutting-edge approaches to fundamental scientific questions, " said Professor Alexander. "We really tried to encourage an open atmosphere where people felt they could ask basic questions without fear of judgment. Open communication is the key to interdisciplinary collaboration, and it's challenging and exciting to facilitate that. There was a real buzz as people were able to engage with and learn new things."
"I really enjoyed all the lively discussions we had during the workshop and the openness from all the AI experts on offering ideas to try. I got several new techniques to try for my own research. I was also impressed the discussions were still going by the time I had to head home myself!" said Professor Wang.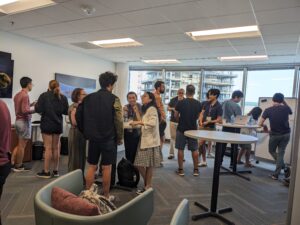 In providing a space for interdisciplinary collaboration between computer science and astronomy, the workshop facilitated conversation about artificial intelligence (AI) and data science-based methodology. "I think there is a lot of untapped scientific potential in utilizing AI-based algorithms in analyzing astronomical images," explained Professor Wang. "We're still utilizing techniques invented 100 years ago, and there's certainly gains to be had by working with computational imaging experts on integrating state-of-the-art algorithms. In hosting this workshop, we've learned there are a lot of folks that are interested in this topic, but there has lacked an established community to get plugged in to. I think this workshop helped fill in this niche."
"The interdisciplinary nature of CIERA opens up incredible opportunities for collaboration, creativity, and sharing across traditional boundaries," said Professor Alexander. "We can all do better science when we learn from the needs and successes of other fields, and this is particularly true right now in the overlap between astronomy and artificial intelligence. It's amazing to get to be a part of this cross-pollination."