On the last Friday of each month, Dearborn Observatory is open to anyone to come in, meet, and interact with CIERA researchers and students. Known as CIERA Astronomer Evenings, the program welcomes anyone curious about anything astronomy!
While the monthly evenings ran strong until in-person programs paused at the onset of the pandemic, Astronomer Evenings relaunched in June 2022. Each month since then, community members of all ages and backgrounds have visited the historic Dearborn Observatory to get a taste of the stars. From January 2019 to Fall 2023, average attendance has been 24 people, with one event welcoming 75 visitors.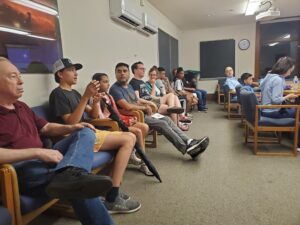 "Having Astronomer Evenings back online allows us to reconnect with our local Evanston and Chicagoland communities, talking about all the new updates in space news like the latest findings from JWST, or the detection of the gravitational wave background. Maybe one day, we'll discuss a discovery of extraterrestrial life!" said James Schottelkotte, CIERA Education & Outreach Coordinator.
The program was initially the brainchild of former CIERA graduate student Katie Breivik, dubbed "Einstein Evenings" in 2015. It began to celebrate 100 years of Einstein's historic theory of general relativity, but the program continued into the following year. Transforming into CIERA Astronomer Evenings in 2016, it expanded from its initial focus on gravitational waves and general relativity to encompass all aspects of astronomy. 
"[Astronomer Evenings is] a chance for the public to actually just converse with an astronomer," said program organizer Chase Kimball. "I think people have this image of what a scientist is … We're regular people. To me, that's one of my favorite things about it: It gives the opportunity for the public to talk to an astronomer and ask questions about science." 
Astronomer Evenings take place from 8:00 – 10:00 PM during the fall and winter, and from 9:00 – 11:00 PM during the spring and summer. At any point during the two hour window, people are welcome to visit and talk with volunteers, where they'll learn about various astronomy topics and research, such as black holes, star pairings, and telescopes. The night also contains opportunities for interactive activities, as well as the chance to look through the Dearborn telescope. See the Astronomer Evenings webpage for more details and upcoming events.
We are thankful for a successful year of Astronomer Evenings, and we are excited to continue sharing this special program with the community!
Stay tuned to CIERA's Facebook and Twitter pages for updates on Astronomer Evenings. Check out the Dearborn Observatory website for more information about public viewing sessions, which are held weekly on Fridays.
Article by Katie Liu