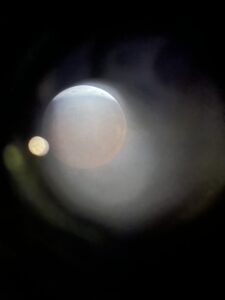 Northwestern students and Evanston residents gathered atop the South Campus Parking Garage Sunday May 15th, 2022 to view the total lunar eclipse of the May full moon, also known as the flower moon.
The Dearborn Observatory and NU's Center for Interdisciplinary Exploration and Research in Astrophysics organized the free public viewing, providing community members the opportunity to view the rare event.
Several months of planning and coordination went into preparing for the event, according to astronomy and physics Prof. Michael Smutko, who currently serves as the director of the Dearborn Observatory. He said while clouds obstructed the moon for some of the event, he was happy to host it.
"This is the first time in a few years that we've had a total lunar eclipse visible from Chicago," Smutko said. "These are just really nice events that, every year or two, you can really get a sense of the connection between the heavens and what life is down here on Earth."
Click here to read the full Northwestern Now News Story
Thank you to everyone who volunteered at the event!
and Dearborn hosts Sydney, Jay, Alex, Ethan, Joe, Anastasia, Ben, and Katie
By Lalla-Aicha Adouim