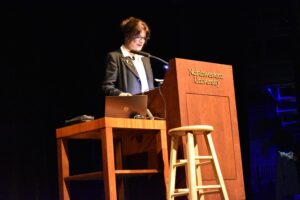 On October 6, Dr. Carolyn Porco, an award-winning planetary scientist, leader of Cassini's imaging team, and veteran imaging team member on the1980s Voyager mission to the outer solar system, presented a public lecture titled Cassini to Saturn the Journey and the Legacy, guiding the audience through the enchanting realm of Saturn and mission Cassini's most profound scientific results. Held live in Cahn Auditorium on Northwestern's Evanston campus, more than 165 viewers enjoyed the event.
The event was concluded with a lively Q&A session, where Dr. Porco took questions from the live audience.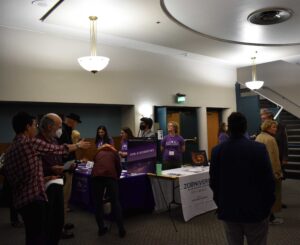 This year's talk also included an "Ask a Scientist" post-lecture meet-and-greet, directly connecting CIERA's interdisciplinary researchers with the audience. Graduate students and postdoctoral researchers from CIERA spoke with audience members at four tables, representing a variety of astronomy topics, displaying science visualizations, and answering myriad questions from an enthusiastic crowd.
The Lecture is made possible with support from The Alumnae of Northwestern University. Thank you also to all of the graduate students, post-docs, faculty, and staff that helped make this event possible!
Peter Anglada, Zoheyr Doctor, Chloe Fisher, Kari Frank, Alexa Gordon, Cliff Johnson, Shane Larson, Dennis Lee, Alexandra Lenox, Miguel Martinez, Jillian Rastinejad, Kyle Rocha, Billy Samano, James Schottelkotte, Imran Sultan, Elizabeth Teng, William Vercellone, Nastasha Wijers, Caitlin Witt
Watch this and past Annual Public Lectures on our YouTube channel!