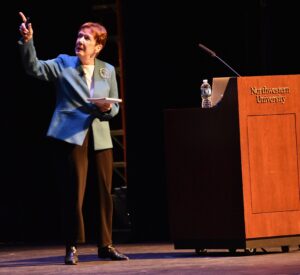 On October 5th, nearly 200 people gathered at Cahn Auditorium to hear Marcia Bartusiak present her talk The Day We Found the Universe: A Centenary Celebration for CIERA's 15th Annual Public Lecture.  Bartusiak introduced the audience to the astronomers who laid the foundations for Edwin Hubble to prove that the cosmos is vast and home to countless galaxies.  Bartusiak told the very human stories of their rivalries, triumphs and disappointments.  The event was made even more special by its timing:  October 5th marked exactly 100 years to the day after Hubble took the famous image, known as the VAR! Plate, solidifying our modern understanding of our place in the expanding universe.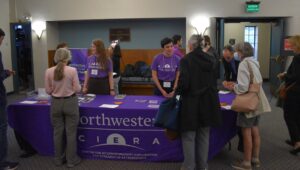 Bartusiak, MIT Professor of the Practice Emeritus, has won numerous awards for her ability to communicate the intricacies of science and its history to the general public.  Her expertise was evident as she took audience questions at the end of her talk ranging from the cosmological constant to the preservation of the historic telescope at the Mt. Wilson Observatory.
Before and after the lecture attendees could visit "Ask A Scientist" tables in the lobby.  This year's forum included a discussion table with a science writer and professor in Northwestern's Department of English alongside tables staffed by CIERA graduate students who answered any and all audience questions about astronomy topics.
CIERA's Annual Public Lecture is made possible with support from The Alumnae of Northwestern University.  Thank you also to all of the graduate students, post-docs, faculty, and staff who helped make this event a success:
Dany Atallah, Zoheyr Doctor, Alexa Gordon, Peggy Guo, Daisy Hernández, Beryl Hovis-Afflerbach, Emma Kaufman, Nathalie Korhonen Cuestas, Kari Frank, Shane Larson, Janet Lyons, Anastasia Moriakova, Neel Panchal, Christine Ross, James Shottelkotte, Imran Sultan, William Vercellone, Nycole Wenner, Nastasha Wijers and Madeline Wilson.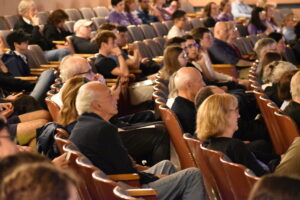 Watch Marcia's talk and past Annual Public Lecutres on our YouTube Channel!